About Our Company and Technology
Your Print Cloud is a complete document management company utilizing one of the first print cloud architectures developed back in 1999 and deployed today in the industry. Your Print Cloud specializes in print opportunities for Libraries, Universities, Colleges, K-12, and retail business owners. Your Print Cloud offers the opportunity to print anywhere from PCs, Macs, iPhone and Android apps to any location with "Your Print Cloud" enabled printers.
Your Print Cloud also provides a dashboard for users, displaying recent history, date of the job, location, type, total jobs, and price per job. In the same dashboard interface, under the account information, it provides the following: User's profile, assigned PIN, print archive, account history, download drivers, change password, redeem coupon, and update account in a simple, single interface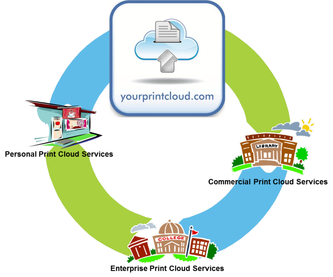 The "Your Print Cloud" solution offers the ability to add more services for your patrons, students, and customers with a small investment of time and money, yet yield a completely new revenue stream that adds substantial profit - straight to the bottom line. Your Print Cloud could also be used for airports, hotels, resorts, and real estate companies. Even places like coffee houses and restaurants that offer free Wi-Fi Internet connections can now couple that value added customer benefit with Your Print Cloud and completely differentiate themselves from their competition.
Your Print Cloud provides for sophisticated document printing management controls and features, which result in significant cost savings enterprise wide.
The suite of Your Print Cloud services includes the following:
Personal Print Cloud Services (PPCS) - Revenue Generation provides a complete solution for the sale of printing services directly to Wi-Fi connected laptop / mobile device users.  Most importantly, Your Print Cloud's Personal Services are designed to generate a "never before seen" revenue stream for our target market establishments.  Personal Print Cloud Services will enhance the customer experience and provide new services that may keep them coming back time and time again.
Commercial Print Cloud Services - Tracking enables institutions to track print costs and, as an option, collect billing information for administrative, departmental and faculty printing.  Many companies today are unable to manage and track costs in their internal print infrastructures.  Gartner Group estimates that as much as 3% of a company's total revenue is spent on their printing infrastructure and supporting it.  Think about it.  If a company has revenues of $100 million, about $3 million is spent on printing annually with little or no controls in place.  Do you think companies need help in managing these costs?  Absolutely! Your Print Cloud's Print Services can help!
Enterprise Print Cloud Services - A solution for directing production print jobs to a centralized point production facility through traditional print driver functionality. The Enterprise Print Cloud driver allows easy access for any user to reach a print production facility with very little effort! Your Print Cloud's Enterprise Services gives any print production facility easy access to the global print market.
Your Print Cloud provides users the same "file, print, click" workflow that users currently use to send documents today to any desktop printer, but it electronically sends the document to the print vending device or copy center in a ready-to-print format, eliminating formatting and manipulation issues that are created when attempting to print from an email attachment or upload to a web site.